I get asked at least 3-5 times each week which business growth tools I use to fuel my business, and specifically which ones lead to measurable business growth. Since this is my *** favorite topic ***, I thought I'd start a blog series in which I do an article of each of the business growth tools that I use.
Today I'm going talk about one of the advanced business growth tools that fueled my most recent business growth strategy. Each business needs to find a way to communicate with and keep in touch with their customers. Customers focus on business growth most often when they don't have enough business or customers and there is a great way to invite them into a conversation that they are already having with themselves.
Email management and auto-responder business growth tools
Enter the business growth tools arena. One of the most common categories is that of email management and auto-res-ponders. Not sure what these are? Do you often see those little boxes on a webpage asking you for your name and email? This is called a name capture, and it triggers and automatic response that might be one or more email messages that get delivered to you, or some other action.
There are primitive business growth tools that do this tasks, and then there are very sophisticated versions. I used to used 1 Shopping Cart, as I needed a cart and email res-ponders. I found that the deliver ability wasn't high enough, and also that it was priced based on using the shopping cart and the auto-res-ponder.
I then moved to Aweber auto-res-ponder business growth tool.  It does a great job for the price point. Last year I decided my business needed more to keep up with my business growth strategy.  I researched and chose Infusion Soft, as did many other thought leaders. This tool is for those who have needs that are quite strategic in nature.  It has the ability to handle campaigns on multiple sites and also handles e-commerce as well as marketing analytics.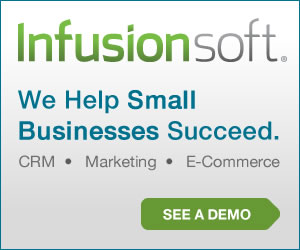 Transition to Infusionsoft (click to see Black Friday ideas)
These business growth tools allowed me to import all of my contacts from Aweber, Outlook, and a few other resources and "tagged" them with their source.  The tool is powerful enough to clean up lists of contacts to search for duplicates.  It enables you to build great looking webforms, enewsletters and now has a powerful Marketing "Campaign Builder".
The Campaign builder feature is a visual tool that enables one to figure out what traffic sources will drive their campaign.  Examples include blog, Facebook, Twitter, other social media, as well as traditional forms of media.  The campaign designer, who is likely you, the small business owner, attaches different actions and can track the results, such as the persons who click at a stage of the campaign, and then automates the "branch" of the campaign action.
Simple to use eCommerce Store & Shopping Cart
The features that I really enjoy in business growth tools are those that allow me to create an incredibly simple to use eCommerce product store and cart using the software.  I insisted on integration with the membership software tools I use as well.
Take a look at the demo – and if you decide if this is for you, I would highly recommend the training that they offer.  I used it to help me transfer my existing marketing resources, build campaigns, newsletter templates and even to build my store.
I wish you all of the benefits of making your business growth easier by checking out this great tool.
*Note – please see my comments about my affiliate relationship with InfusionSoft
Planning & Design
Mind Mapping Tools
MindMeister